In this short yet dense prediction-heavy post, I unpack some of this:
Big Prediction: Commercial OSS value captured directly (~$115B) will grow 10X+ to exceed OSS value captured today indirectly by Cloud/SaaS market ($1T) by 2030.
— Joseph Jacks (@asynchio) July 19, 2018
The BVP Cloud Index is the best example of a highly vulnerable category of the technology industry where there is a great deal of secularly assumptive exuberance that in my view is based on a few key and interrelated but faulty conclusions, specifically:
That SaaS as a category (as it is understood today and informed over the past 15 years of progress in this category) is going to remain the staid and true approach structurally, in terms of company formation evolution and product development approaches, go to market best practices and so on.
That SaaS itself is a significant growth market positioned to birth several billion-dollar companies per year given the historical performance of the category.
That SaaS itself as a proprietary software delivery model is immune to disruptive forces.
Unpacking a tad more:
SaaS (the BVP Index, specifically) eventually gets eaten entirely by OSS-based companies (radically different than proprietary SaaS ones that are in this BVP Index) over 15–20 years.
SaaS will remain as a delivery model, but will be decoupled from the proprietary industry definition that has predominantly formed around it (in this BVP Cloud Index). Models like what Fastly and GitHub have championed around scaling large and successful networks and businesses based fully on a core OSS project (ElasticSearch in the case of Elastic, Varnish in the case of Fastly and Git in the case of GitHub) will transform the SaaS meaning entirely as OSS commercialization expands beyond eating infra / IT stack software to also eating SaaS.
Fake Precedence: SugarCRM happened at the wrong moment time in history (the dog-food .com startup equivalent of its day) before OSS-based disruption could effectively eat app-level platforms/software delivery/company formation models… basically, the internet was too young, there were too few developers and OSS had yet to even begin the massive move towards eating the world at the growing momentous level it is tapping into today and into the next several decades.
Why 20 years? Today, OSS is too far proximity-wise from developers to empathize with the business end users / consumers of LOB SaaS applications to eat it right away… but over time as 1B+ software developers rule the technology industry powered by their most crucial tool / source of leverage (OSS), this will change.
Building on the previous bullet, commercial OSS is first eating middleware/enterprise IT/infrastructure software — clearly evident in the COSSCI cohort of companies of today (they are all infra/middleware co's).. why is this? Well, OSS-fueled developer disruption in those categories of software is far more prevalent today than ever before and is very close to the interface and consumption dynamic of software primitives used by IT Ops/DevOps/Software Engineers. Over time, the same dynamics will occur in the LOB-level SaaS category.
Salesforce and all others in the BVP Cloud SaaS Index don't go away, but they become the Oracles, IBMs and SAPs of today (i.e. the disruptees) in that transition over 20 years.
The BVP Cloud Index only indexes the top 50 SaaS companies… there are thousands. This market is actually more like $500B+. Much of that transitions/transforms/gets eaten by COSS reincarnations over time.
Extremely interestingly, there are exactly only three (3) companies (as of this posts publish date: Talend, Cloudera and Hortonworks… out of 50 others that are totally different) listed on the BVP Cloud Index that are actually COSS companies and notLOB enterprise-apps delivered via a proprietary SaaS delivery + business model construct. This sparse data point indicates something major: Legacy VCs will incorrectly conflate COSS companies that end up looking like traditional proprietary SaaS companies. This is not a good idea, for the following reason:
OSS is NOT just a distribution / marketing strategy for commercial OSS co development - NO, it causes a total full-stack rethink of everything: culture, eng, product, sales, go to market, business model, etc...! These co's are fundamentally different in nearly every way.
— Joseph Jacks (@asynchio) August 16, 2018
In a future post, we will unpack exactly why COSS companies are fundamentally different in nearly every way. This is a broad bold assertion that deserves a distinct post.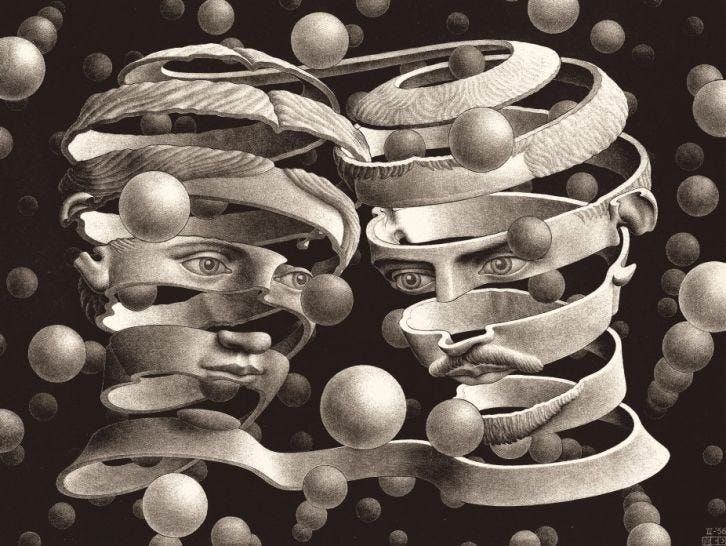 *Bond of Union. *April 1956. Lithograph. M.C. Escher.