The more things change the more they stay the same from Super Bowl endings to impeachment endings. In the world of Open Source, the virtuous cycle of ecosystem growth forged ahead with two public OSS companies acquiring two private OSS companies. In addition, half the companies in the OSS Index reported and we'll look a little closer at the lagging and leading indicators in these reports. Lastly, several private companies announced funding rounds, including one nine-figure round at a ten-figure valuation.
Public open source companies are continuing to take advantage of the momentum in the market by adding to their product arsenal with strategic acquisitions. Rapid7 (RPD) acquired Alcide (OSS) to bring Kubernetes security to the forefront alongside their vulnerability and cloud security offerings. With Kubernetes becoming the de facto standard for container orchestration and management the threat surface has become more expansive as well.
Meanwhile, Datadog (DDOG) announced two acquisitions this past week. Taking advantage of the fervor over application security, they acquired Sqreen to bring to light synergies that exist between the types of engineers and customer personas that care about monitoring as well as application security protection. Additionally, Timber Technologies (OSS), the maker of the Vector product, will bring additional observability features to the DataDog platform.
Private Markets
Kong, providing service connectivity for modern architectures, announces $100M Series D at $1.4B valuation led by Tiger Global.
Vendia, a serverless data-sharing platform, announces $15.5M Series A led by Canvas Ventures.
Rocket.Chat, an open-source communications platform, announces $19M Series A led by Valor Capital Group.
Public Markets
To track the performance of COSS companies, I created an equal-weighted index comprised of public names including: MongoDB, Datadog, Elastic, Talend, Cloudera, Rapid7, Fastly and Jfrog.
Over the last year, the COSS Index significantly outperformed the benchmarks:
COSS Index +130%
NASDAQ +45%
S&P 500 +17%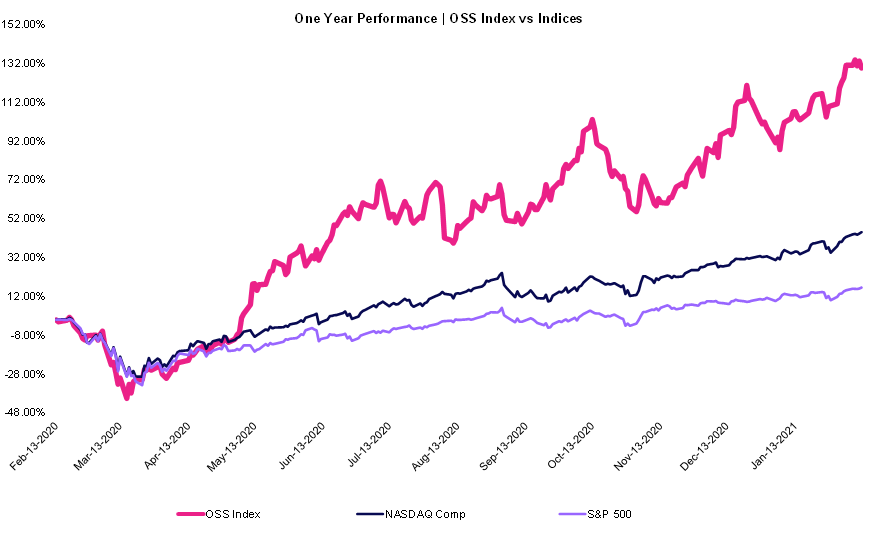 Over the last three years, the COSS Index continues to outperform:
COSS Index +423%
NASDAQ +101%
S&P 500 +48%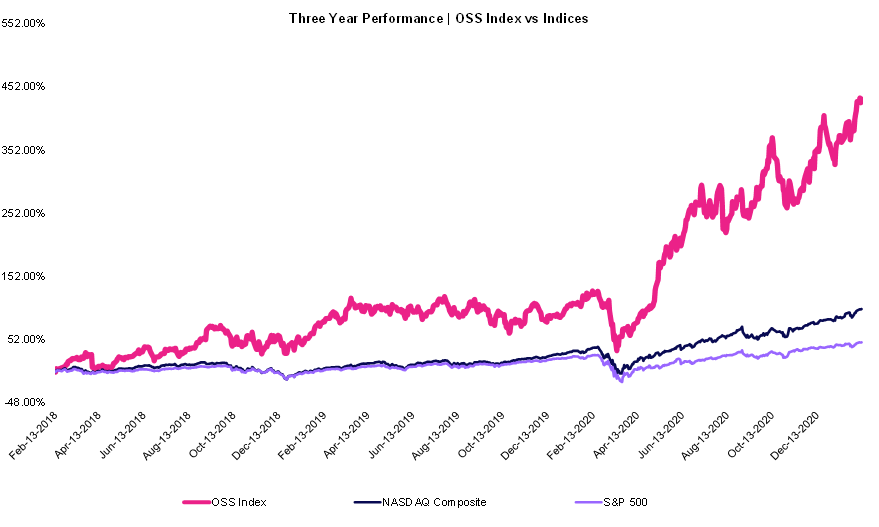 COSS companies continue to move farther away from both their five-year average as well as their counterpart indexes.
COSS Index: Current Multiple 22.8x | Five-Year Mean: 8.1x
Emerging Cloud Index: Current Multiple 16.6x | Five-Year Mean: 8.7x
NASDAQ Composite: Current Multiple 4.7x | Five-Year Mean: 3.0x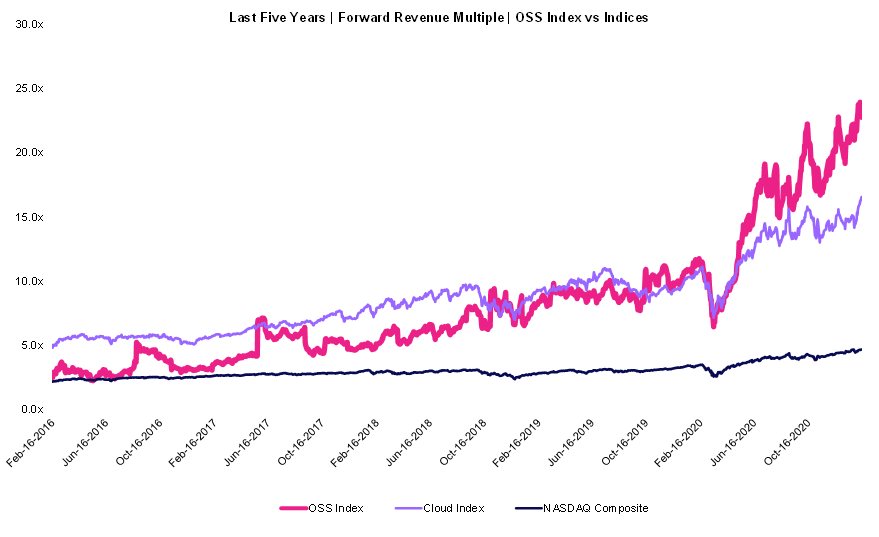 Earnings
Lagging Indicators
Four of the eight companies in the OSS Index reported last week with all of them beating their 4Q '20 targets and significantly expanding YoY growth. Of note, DDOG continues to excel posting the largest beat against consensus estimates despite having the largest revenue base. This may be the result of conservative estimates (sandbagging), outperformance or both. Over the next couple quarters, we'll track if the gap narrows between estimates and actuals as a proxy for momentum across each of these companies.

Leading Indicators
Looking ahead at 1Q '21 as well as the full year forecast has more of the same: outperformance across the board with DDOG leading the pack (in both beat and base). Despite strong results from the first four names in our OSS Index, stock performance was relatively muted (+1.1%) as the group is trading near their all-time highs and valuations remain full.

Extra
Video from the Index OSS Summit
Hiring Your First OSS Community Manager
Lots of discussion around exploring Silicon Valley's psyche and the Rebuttal