Hope everyone is using the long weekend to decompress and watch some great playoff football matchups (full disclosure: I'm a Detroit Lions fan and it has been a rough couple decades despite having the Elon Musk of the NFL). The private markets picked up right where they left off last year as OSS companies raised several rounds across multiple stages. The public markets have also continued to show resilience with the OSS Index trading higher than their cloud peers as well as the broader composite.
As we think about impending transitions of power this week, the OSS transition in the enterprise continues to gain momentum and will drive significant value as the market expands in both depth (open-source/closed-source mix) and breath (size of the overall market). In this week's newsletter, I'll share a couple of interesting data points on how that transition is evolving.
If you love OSS stuff, please sign up for my bi-weekly newsletter at
Private Markets
Cockroach Labs, a New York-based distributed SQL database, raised $160 million in Series E funding at a $2 billion valuation. Altimeter Capital led, and was joined by Greenoaks, Long Pine and return backers Benchmark, Bond, FirstMark, GV, Index Ventures, and Tiger Global.
Dremio, a Santa Clara, Calif.-based provider of data lake transformation solutions, raised $135 million in Series D funding at a $1 billion valuation. Sapphire Ventures led, and was joined by insiders Insight Partners, Lightspeed Venture Partners, Norwest Venture Partners, Redpoint Ventures and Cisco Investments.
Kong, a San Francisco-based API platform, raised $93 million in new funding, per an SEC filing. Existing backers include Andreessen Horowitz, CRV and Index Ventures.
Chronosphere, a New York-based cloud mentoring company, raised $43.4 million in Series B funding. Investors included Greylock, Lux Capital, Lee Fixel, and General Atlantic.
Stacklet, an Arlington, Va.-based open-source cloud governance startup, raised $18 million in Series A funding. Addition led, and was joined by Foundation Capital.
Slim.ai, a Boxborough, Mass.-based container dev-ops platform, raised $6.6 million in seed funding from Boldstart Ventures, Decibel Partners, FXP Ventures and TechAviv Founder Partners.
Openbase, a Walnut, Calif.-based platform for helping developers find open source components, raised $3.7 million in seed funding. Zeev Ventures led, and was joined by YC.
Public Markets
To track the performance of OSS companies, I created an equal-weighted index comprised of public names including: MongoDB, Datadog, Elastic, Talend, Cloudera, Rapid7, Fastly and Jfrog.
Over the last year, the OSS Index significantly outperformed the benchmarks:
OSS Index +117%
NASDAQ +39%
S&P 500 +14%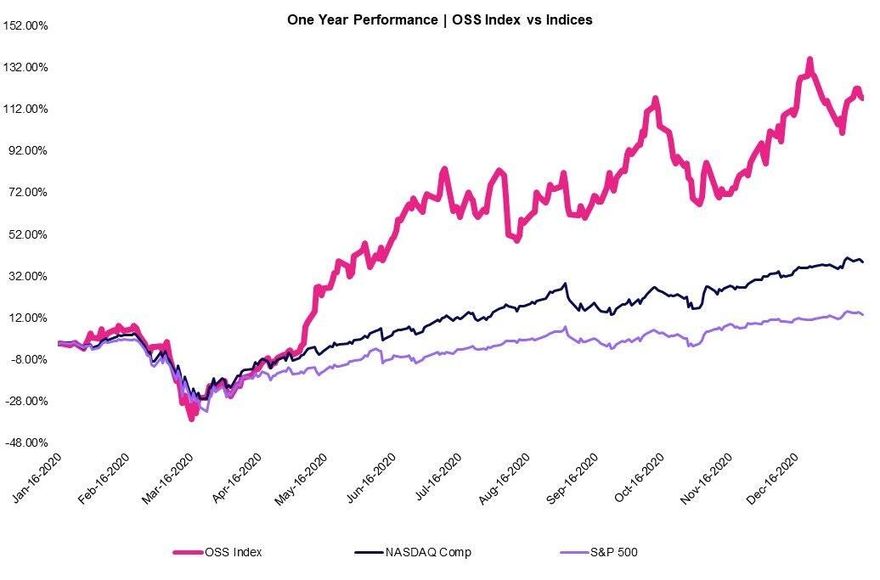 Over the last three years, the OSS Index continues to outperform:
OSS Index +360%
NASDAQ +78%
S&P 500 +34%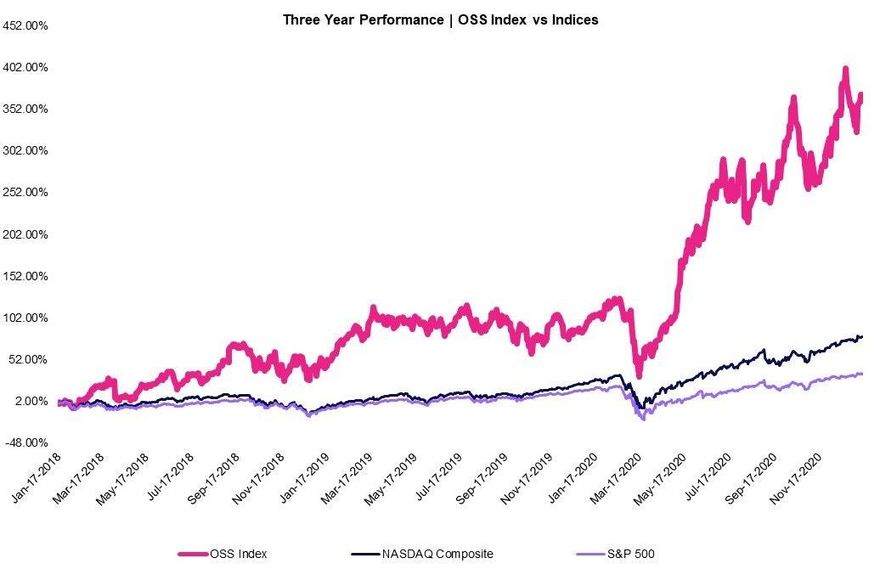 While OSS companies have historically traded at or below cloud multiples, that trend has continued to stay inverted in the post-pandemic markets.
OSS Index: Current Multiple 20.9x | Five-Year Mean: 6.4x
Emerging Cloud Index: Current Multiple 14.6x | Five-Year Mean: 8.4x
NASDAQ Composite: Current Multiple 4.5x | Five-Year Mean: 2.9x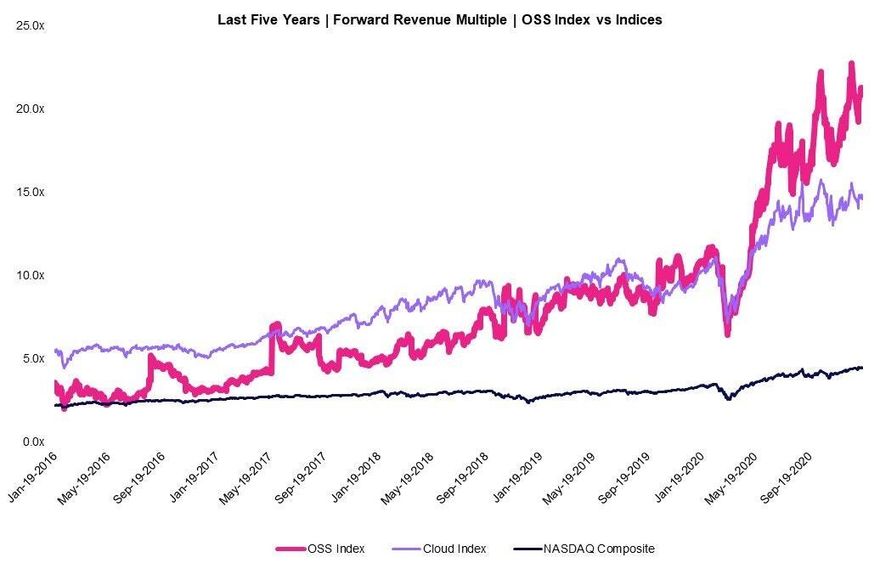 Transition of Power
Red Hat delivers an annual report that explores the open source sentiment among a group of 950 IT leaders from across the world. Using the last two reports, we can see how this trend has accelerated over the past year.
In evaluating the relevance of Enterprise OSS, the sum of the three most important categories has moved from 89% (2019) to 95% (2020) with the subcategory of extremely important moving even more significantly from 29% (2019) to 39% (2020).
2019 - Importance of Enterprise OSS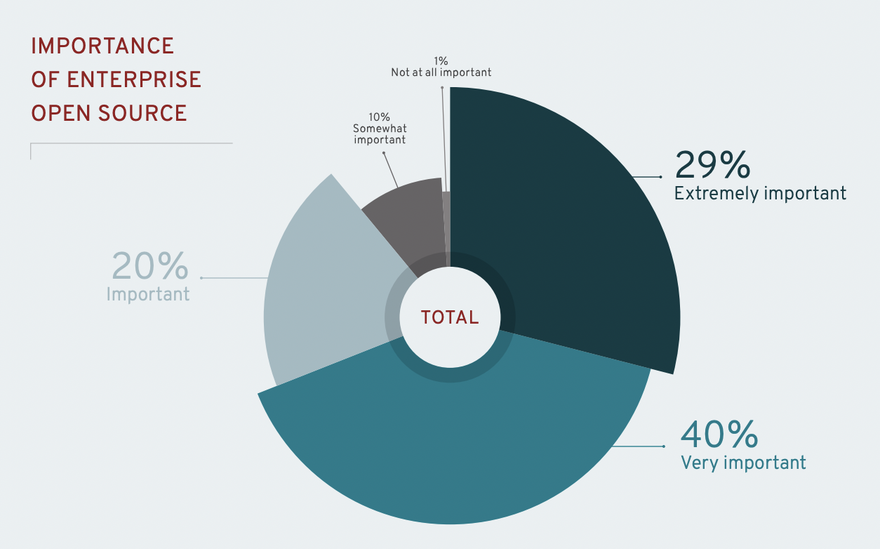 2020 - Importance of Enterprise OSS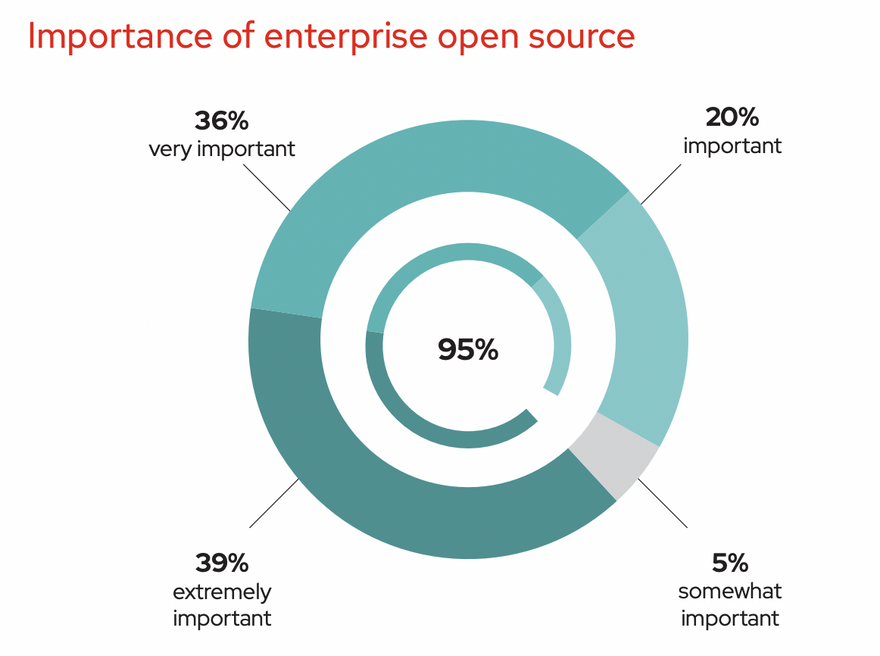 The real transition of power is from closed source or proprietary software to enterprise open source. As shown below, enterprise's expected usage over the next two years has moved from 36% (2019) to 44% (2020). Interestingly, the decline in proprietary software usage is even more severe moving from 41% (2019) to 32% (2020).
2019 - Expected change in OSS Usage

2020 - Expected Change in OSS Usage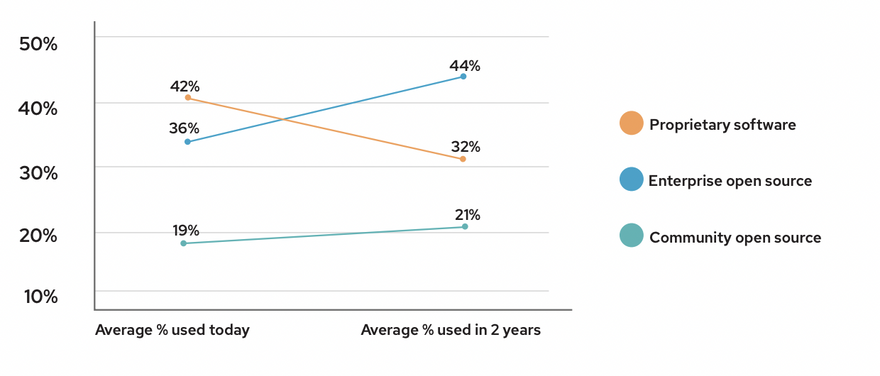 Lastly, the usage of OSS is changing in the enterprise with companies heavily favoring security and cloud management in 2020 as compared with website development in 2019.
2019 - Where is OSS Being Used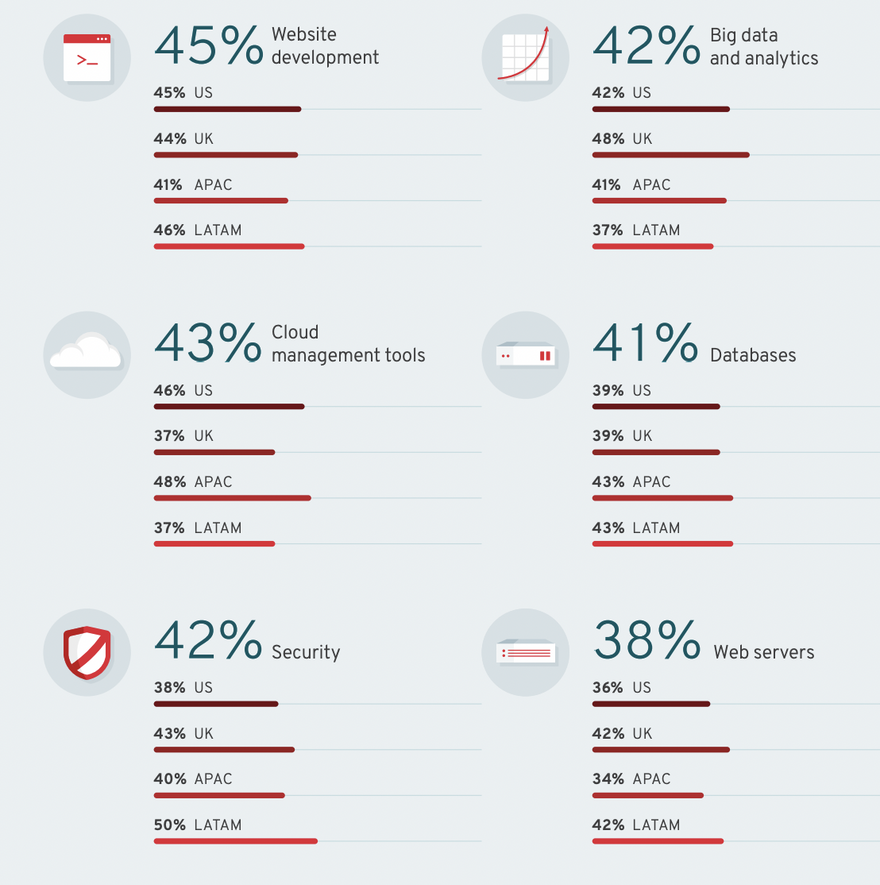 2020 - Where is OSS Being Used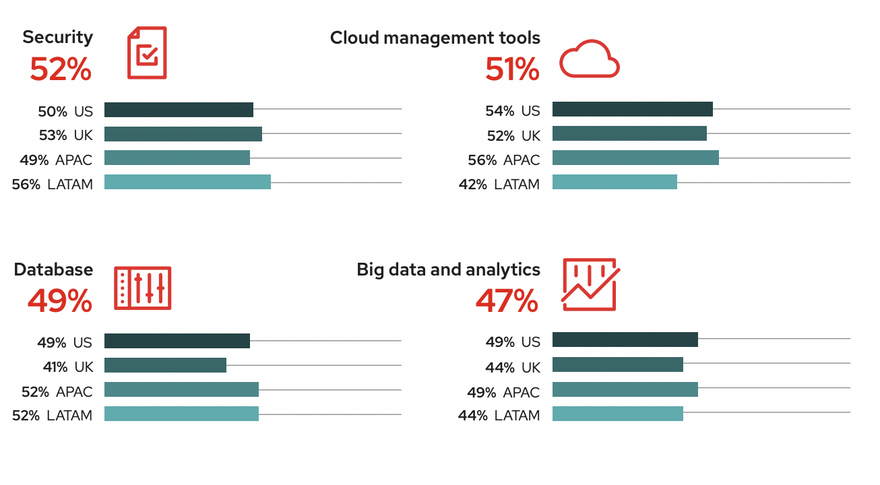 The next Red Hat - State of Open Source report should be out over the next month and we'll be sure to look at how these trends are continuing to shift.
Extra
The AWS Origin Story: Transforming Crisis into Opportunity
The best thread on venture investing… ever
Looking for a 2021 Resolution… Subscribe!