COSS Weekly, Issue #38: July 18th, 2021
Here's the thirty-eighth issue of COSS Weekly, the global commercial open source (COSS) company category newsletter, brought to you every Sunday afternoon (Pacific Time) by the team at OSS Capital, creators and stewards of COSS Community and Open Core Summit.
We deliver only the most fresh 😋 news from the previous week in COSS across: Funding, Content, Liquidity and $COSS (Public Markets).
This last week saw $225M in funding for Sourcegraph and Pantheon, funding and acquisition activity in the COSS sphere from Soft Bank's Vision Fund 2, public market updates for Couchbase and Kaltura, and podcasts + thought pieces from leaders across the COSS space — from Martin Casado, to Emily Omier, to Guy Podjarny, and Solomon Hykes.
Enjoy!
---
💰 COSS Funding: $225M
Sourcegraph, bringing great code search to every developer, announced their $125M Series D round led by a16z. Link
---
📚 COSS Content
---
💸 COSS Liquidity (M&A + IPOs)
---
📊 $COSS - Public Markets
$COSS markets down 4.46% last week

Latest $COSS markets snapshot below as of close today courtesy of Koyfin.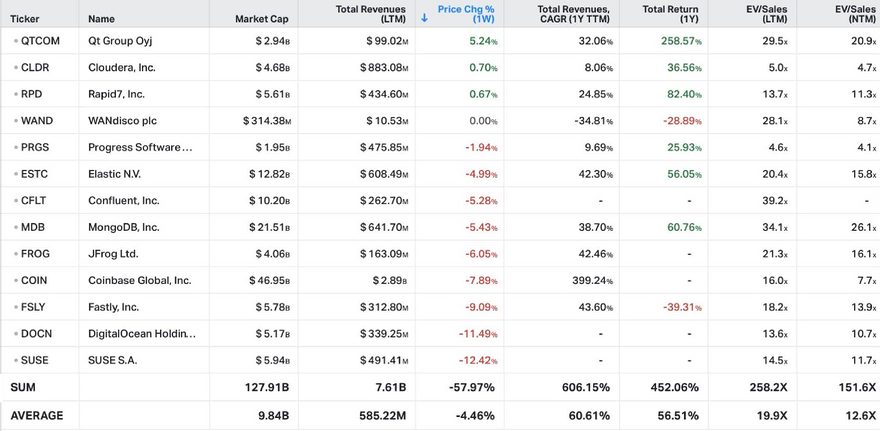 Corrections to Koyfin data:
MDB market cap listed at $21.49B (Google)
CLDR market cap listed at $4.62B (Google)