COSS Weekly, Issue #7: 💥November 29th, 2020
Welcome to the seventh issue of the COSS Weekly, the global Commercial Open-Source ecosystem newsletter brought to you every Sunday by Joseph Jacks and team at COSS Media, OSS Capital and the organizers of Open Core Summit.
Each week, we neatly summarize the latest happenings in COSS, often including objective commentary across primarily the following four areas: Funding, Content, Liquidity, Data.
---
💰 COSS Funding
ERPNext, an open-source, out-of-the-box ERP system — the largest FOSS ERP in the world, and the largest FOSS project out of India — announces $1.35M investment from Rainmatter / Zerodha. Link
---
📚 COSS Content
Vectorized announces Redpanda is now free and source available. Link
Future. A short essay from the team behind Forem. Link
Wade Arnold, CEO of Moov, discusses company's open core / closed crust model. Link
COSS progress in China (text in Chinese). Link
Are RISC-V chips ready to compete with ARM? Link
WTF is Commercial Open Source Software? by Hacker Noon Link
Thoughts on anti-open core from Drew DeVault of SourceHut. Link
Thomas Hatch, author of Stack, to deliver presentation on Innovation in the COSS Ecosystem at Open Core Summit. Link
Josh Levinger, creator of OpenActivism.tech, calls on Alloy (political tech startup by Reid Hoffman) to open-source its resources as initiative winds down post-2020. Link
---
📈 COSS Data
---
As usual, we end with this graphic depicting what we think the next Multi-Trillion-Dollar category in business will be: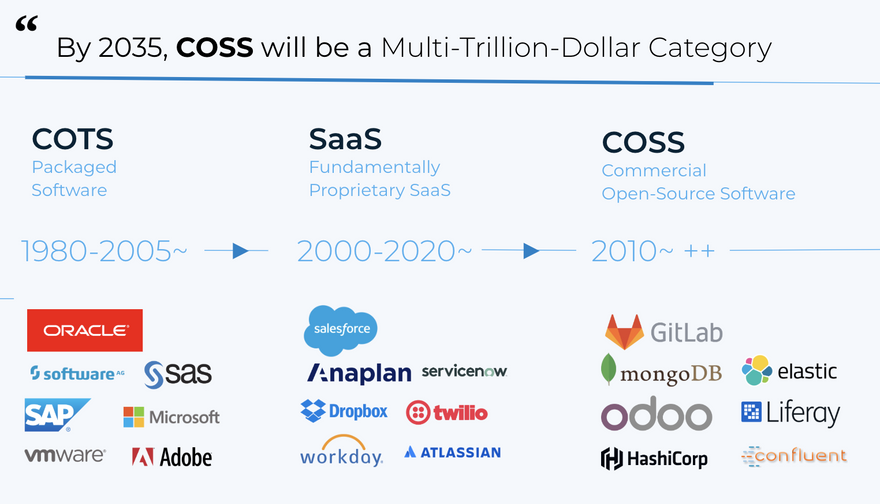 ---
COSS Weekly is brought to you via COSS Media, produced by OSS Capital (the first and only COSS-dedicated early-stage investor platform for COSS founders)
---
Don't forget to sign-up for the second-annual FREE Open Core Summit 2020 Digital to meet with and learn from the leaders in COSS (enterprises, founders, investors, executives and more) on December 16-18th, 2020:

1 mission. 3 days. 10 tracks. 150+ speakers. 10,000+ attendees.