COSS Weekly, Issue #20: March 14th, 2021
Welcome to the twentieth issue of COSS Weekly, the global Commercial Open-Source ecosystem newsletter brought to you every week by Joseph Jacks and the team at COSS.Community, OSS Capital and Open Core Summit.
Each week, we neatly summarize the latest happenings in COSS, often including objective commentary across primarily the following areas: Funding, Content, Liquidity, Data, Markets.
---
💰 COSS Funding
Tetrate, provider of an enterprise-ready service mesh, announces $40M Series B led by Sapphire VC. Link
Insight Partners, Accel, and Cervin Ventures discuss why they invested in Privacera's $50M Series B.  Link
Aqua Security, the pure-play cloud native security leader, announces $135M Series E led by ION Crossover Partners, and crosses $1B in valuation. Link
Hugging Face, building an open-source library for NLP technologies, announces $40M Series B led by Addition. Link
Privacera, the cloud data governance and security leader from the creators of Apache Ranger, announces $50M Series B led by Insight Partners. Link
---
📚 COSS Content
The Future of Business Intelligence is Open Source by Maxime Beauchemin. Link
Semaphore Uncut: Open Source Business Models with Alex Ellis. Link
Open Product Recipe: How to challenge a closed incumbent with an open source product by Erlend Sogge Heggen. Link
Join GGV Capital Evolving Enterprise on Thursday, March 25th, and check out the panel featuring Glenn Solomon (Managing Partner at GGV Capital), Dave McJannet (CEO at Hashicorp), and Neha Narkhede (Co-founder and CEO of Confluent). Link
Max Lynch (Co-founder/CEO of Ionic): Building an open source company is a journey in slowly realizing that your best customers and users *want* you to be commercial and charge for things. Because otherwise, you're just like every other team doing open source: no support, no enterprise-specific software, no guarantees. [Discussion continues] Link
Kurt Daniel (CEO of Ubersmith): MongoDB maintained strong total revenue growth of 38% (and subscription revenue of 39%). And its Atlas revenue actually accelerated from 61% to 66% (!). Link
JJ (OSS.capital, COSS.community): Roblox created a digital market economy for millions of game developers to commercialize their creations: empowered and encouraged to monetize and be fairly rewarded.  GitHub should implement the same playbook but for open source! Link
Kevin Xu (Interconnected): This news is quite important.  MIPS (A once-prominent chip architecture & company) will no longer make MIPS chips, but consolidate around the open source RISC-V. MIPS IP is mentioned as a key ingredient to China's "Made in China 2025" plan.  Link
Syrus Akbary (Founder and CEO of Wasmer): If I ever had to explain why Wasmer became a billion-dollar company... Link
David McJannet (CEO of HashiCorp): Congrats to Roblox who are poised for a milestone.  Great example of our role "enabling the multi-cloud operating model" - here across hybrid AND edge. Terraform, Vault, Consul, Nomad. [Links to Hashicorp case study and integration story with Roblox]. Link
JJ: Huge congrats to all my friends at Talend on their $2.4B outcome to Thoma Bravo today. Link
Elastic License 2.0 and the Evolution of Open Source Licensing by Heather Meeker (Partner at OSS.Capital) Link
JJ: We are soon publishing the 1st State of COSS including our well-known $100M ARR COSS Index (OSS.Cash), latest $COSS ETF news, all-time IPO analysis, PE/VC funding data AND the inaugural COSS benchmarking research platform across 500 + co's!  Stay tuned. Link
JJ: Bessemer Venture Partners has been tracking SaaS since 2011. OSS Capital has been tracking COSS since 2013.  Today, SaaS is valued at around $2.2T~ ...!  While COSS is valued at around $300B~. These are fundamentally different categories, but some overlap qualities often lead to conflation. (Thread continues). Link
Red Hat Community: Season 2 of Open Source in Business is coming soon, but while you wait, here is a new highlight clip on Managing Open Source Supply Chains from season 1! Link
JJ: Software is eating the world, but knowing how to actually spot a software company is a highly valuable skill... Open source is eating software even faster, and knowing how to spot a COSS company is an even more valuable skill. Link
State of Open: The UK in 2021, OpenUK Report.  Economic impact of open source software may be up to £43 Billion on GDP in the UK, compared to up to £84.15B in European Union.  Link
Entreprenerd: Commercial open source software is the best guarantee for the production of software that is useful, innovative, and of high quality, and at the same time sustainable, accessible, and affordable. Link
How I earn a living selling my open source software by nemiah. Link
70+ open-source clones of popular sites like Airbnb, Amazon, Instagram, Netflix, Tiktok, Spotify, WhatsApp, Youtube, and more, from Gourav Goyal. Link
Semiconductor Design Consolidation: MIPS -> RISC-V. Link
Liyas Thomas (Maker of Hoppscotch): Shoutout to OSS Capital for becoming Hoppscotch's Unicorn Sponsor. @asynchio - your contribution makes a difference. Link
Commercial Open Source Software - learnings at firstminute capital by Sam Endacott (Principal, firstminute capital). Link
A Framework for Open Source Evaluation: The question is not any longer if a project is open source or not, the question is how open a project is by Bilgin Ibryam Link
JJ: "Cloud Computing" turns 15 today.  Link
Talend - the Next Cloud Success Story? by Mortiz Plassnig  Link
---
💸 COSS Liquidity
Talend to be Acquired by Thoma Bravo in $2.4 Billion Transaction. Link
SUSE prepares for multi-billion Euro IPO. Link
Couchbase files for IPO that could value it at as much as $3B. Link

 
---
📊 COSS Markets
| | | | | | | | |
| --- | --- | --- | --- | --- | --- | --- | --- |
| Ticker | Name | Market Cap | Total Revenues/CAGR (1Y TTM) | Total Revenues (LTM) | Last Price | Total Return (1Y) | 1-Day % |
|   |   |   |   |   |   |   |   |
| FSLY | Fastly Inc. | $8.61B | 46.53% | $267.16M | 64.84 | 202.28% | -0.99% |
| CLDR | Cloudera Inc. | $3.66B | 17.53% | $854.41M | 14.66 | 63.07% | -2.01% |
| ESTC | Elastic N.V. | $10.44B | 49.18% | $510.57M | 123.55 | 72% | 0.49% |
| MDB | MongoDB Inc. | $19.49B | 41.5% | $542.9M | 308.17 | 93.43% | -6.13% |
| RPD | Rapid7 Inc. | $4.17B | 28.25% | $389.98M | 77.78 | 59.29% | -1.36% |
| TLND | Talend S.A. | $2.09B | 16.18% | $276.01M | 51.18 | 48.74% | 3.94% |
| QTCOM | Qt Group Oyj | $2.17B | 44.45% | $72.54M | 76.2 | 252.7% | -4.03% |
Data from Koyfin
Performance analysis courtesy of Shawn Cherian and the OSS Newsletter:
To track the performance of COSS companies, we've created an equal-weighted index comprised of public names including: MongoDB, Elastic, Talend, Cloudera, Rapid7, Fastly and Jfrog.
Over the last year, the COSS Index significantly outperformed the benchmarks:
• COSS Index +148.09%
• NASDAQ +86.05%
• S&P 500 +58.80%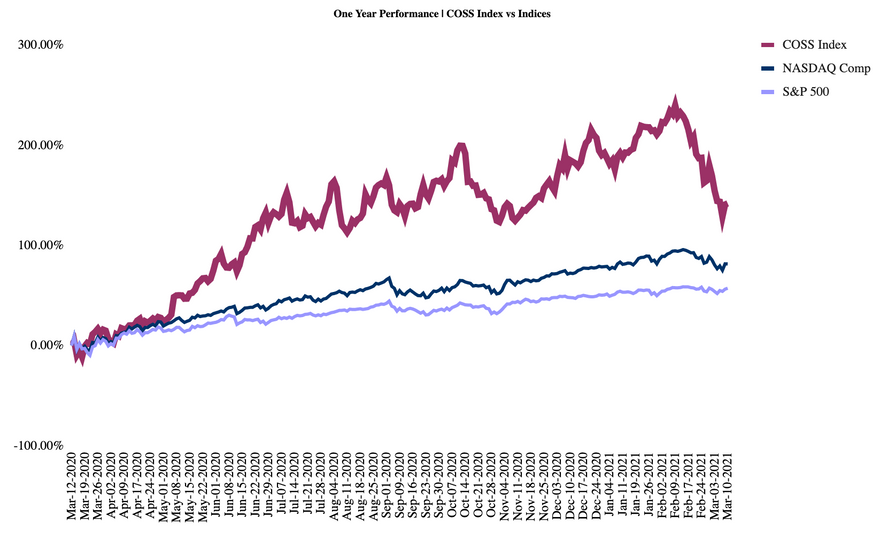 Three Year Performance
• COSS Index +80.73%
• NASDAQ +76.57%
• S&P 500 +41.55%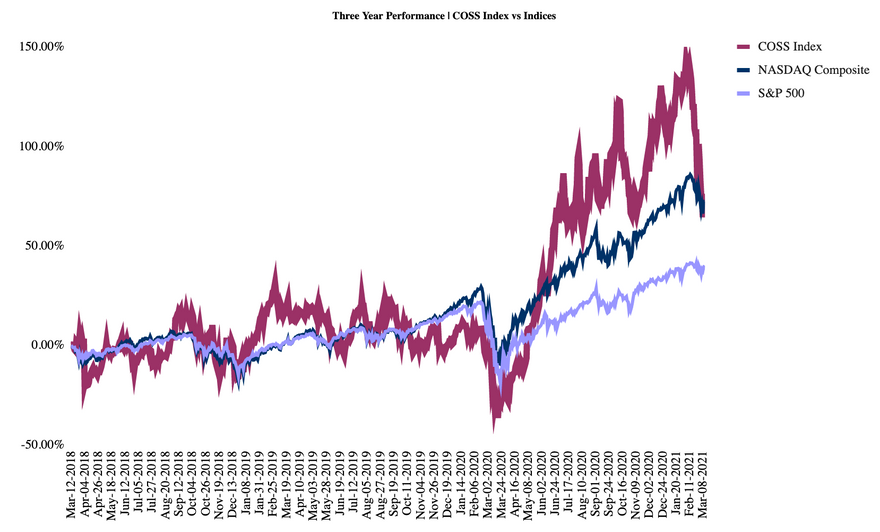 Five-Year Average
• COSS Index: Current Multiple 7.3x | Five-Year Mean: 6.6x
• Emerging Cloud Index: Current Multiple 8.8x | Five-Year Mean: 8.6x
• NASDAQ Composite: Current Multiple 3.1x | Five-Year Mean: 2.9x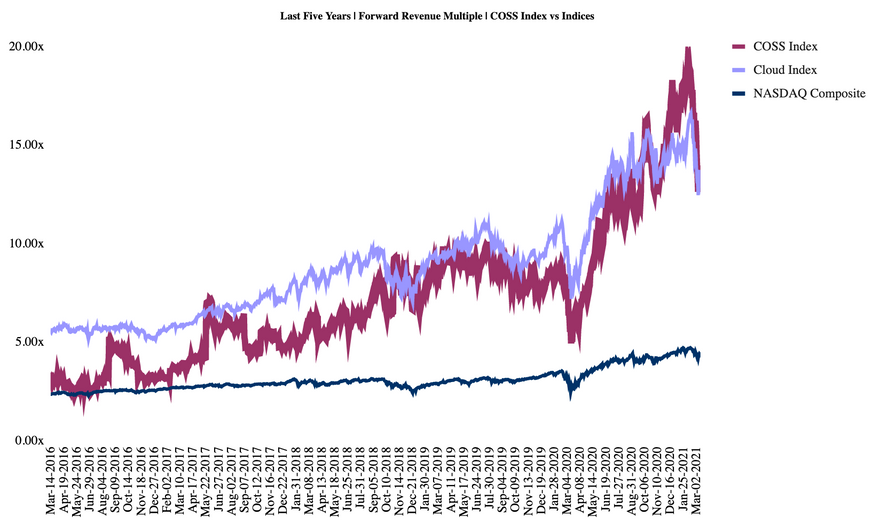 ---
📈 COSS Data
---
COSS Weekly is brought to you via COSS Community and OSS Capital (the first and only COSS-dedicated early-stage investor platform for COSS founders)