COSS Weekly, Issue #41: August 8th, 2021
Here's the forty-first issue of COSS Weekly, the global commercial open source (COSS) company category newsletter, brought to you every Sunday afternoon (Pacific Time) by the team at OSS Capital, creators and stewards of COSS Community and Open Core Summit.
We deliver only the most fresh 😋 news from the previous week in COSS across: Funding, Content, Liquidity and $COSS (Public Markets).
This last week saw $20M in funding for Ahana, a new joint venture from Ursa Computing, RapidsAI, and BlazingSQL (Voltron Data), and Checkmarx's acquisition of open-source security solution Dustico.
Enjoy!
---
💰 COSS Funding: $20M
Ahana, transforming open data lake analytics, announced their $20M Series A led by Third Point Ventures. Link

Automattic, the COSS company behind WordPress.com (and many others), invests in email startup Titan at a $300 million valuation. Link
---
📚 COSS Content
---
💸 COSS Liquidity (M&A + IPOs)
Wes McKinney: "The @ursacomputing team and I have joined forces with @datametrician, @blazingsql and other open source pioneers to create @VoltronData to work for the future of analytics built on @ApacheArrow! " Link

Checkmarx, a leader in dev-centric application security testing (AST) solutions, has acquired Dustico, a SaaS-based security solution for open source software supply chains. Link

Jay Kreps: "First earnings: 64% year-over-year growth in total revenue, 200% (!) year-over-year growth in Confluent Cloud. A huge thanks to all our customers, employees, partners, and investors! Onward!" Link
---
📊 $COSS - Public Markets
$COSS markets up 0.43% last week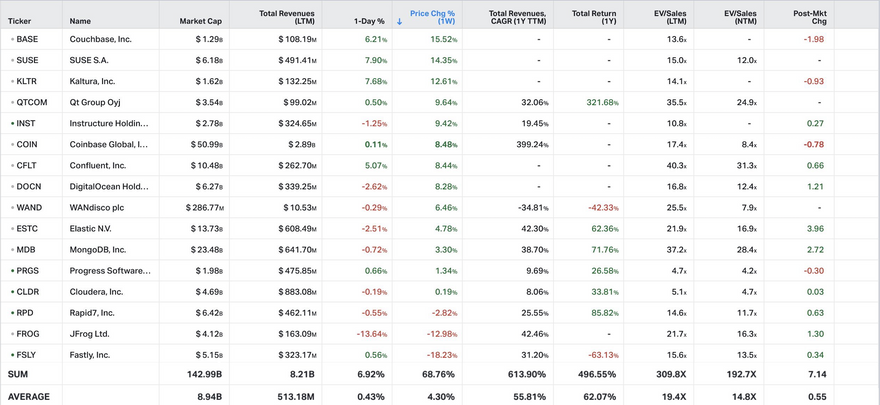 Latest $COSS markets snapshot below as of market close last Friday courtesy of Koyfin
---
This issue of COSS Weeklyis brought to you by Mayfield Fund