COSS Weekly, Issue #9: December 13th, 2020
Welcome to the ninth issue of the COSS Weekly, the global Commercial Open-Source ecosystem newsletter brought to you every Sunday by Joseph Jacks and team at COSS Media, OSS Capital and the organizers of Open Core Summit.
Each week, we neatly summarize the latest happenings in COSS, often including objective commentary across primarily the following four areas: Funding, Content, Liquidity, Data.
---
💰 COSS Funding
Tecton, enabling teams to build smart product experiences with machine learning, announces $35M Series B led by a16z and Sequoia. Link
Weaveworks, maker of a GitOps-powered Kubernetes platform, announces $36.65M Series C led by Amazon Web Services, Ericsson, Orange Ventures, Sonae Investment Management, and Telekom Investment Pool. Link
According to Techmeme sources, Altimeter Capital has invested $150-200M in Cockroach Labs (makers of CockroachDB) at $2B valuation, and $150-200M in Workato (workflow automation) at $1.7B valuation. Link
Ursa Labs, building Apache-Arrow powered data science tools, forms new company Ursa Computing and announces $4.9M seed led by GV. Link
---
📚 COSS Content
Google shares one-year updates on OpenTitan, an open-source project focused on building silicon Root of Trust (RoT) chips. Link
Meet the sponsors of OCS 2020, with events starting Monday morning (Dec 14th)! Link
See the new promo video for OCS 2020. Link
Gary Kevorkian: Cisco featuring Network Serivce Mesh, CN-WAN, Kubeflow, and other open-source projects during OCS. Link
"Few open source project maintainers aspire to earn MBAs or become CEOs ... but that's exactly what their OSS work qualifies them to do or be." — Matt Klein (Envoy) via @mjasay. Link
Open source is eating data! Listen to Episode 0 of the Open Source Data podcast with Sam Ramji (Chief Strategy Officer at DataStax.) Link
"The challenge we face isn't choosing a winner between open and closed, but who within the open world can appeal to developers, build valuable APIs, and leverage the open source paradigm." (Global by Nature — Part III by Kevin Xu.) Link
"To understand adoption of open source projects, Issues signal much deeper engagement than Stars. Growth stage comapnies have 5x as many Issues as seed stage companies." — Chang Xu (Basis Set). Link
Google announces new open source project, Criticality Score, to identify the most critical open source dependencies. Link
Conversation with Tristan Handy (Fishtown/dbt) and Jeremiah Lowin (Prefect) on the modern data stack, empowering data analysts, and building an open source company. Link
Stephen Jacobs, director of Open@RIT, speaks about open-sourcing the Open Source Programs Office at RIT and a "minor in Free and Open Source Software" on Sam Ramji's Open Source Data podcast. Link
Kubermatic announces CEO Sebastian Scheele's breakout talk at OCS 2020 on (Dec 17th). Link
---
💸 COSS Liquidity
New Relic signs definitive agreement to acquire Kubernetes observability platform Pixie Labs. Link
MongoDB has reached $20B in market cap. Link
"The top 50~ COSS companies are now worth more than $200B." Brief notes and reflection from Joseph Jacks. Link
---
📈 COSS Data
---
As usual, we end with this graphic depicting what we think the next Multi-Trillion-Dollar category in business will be: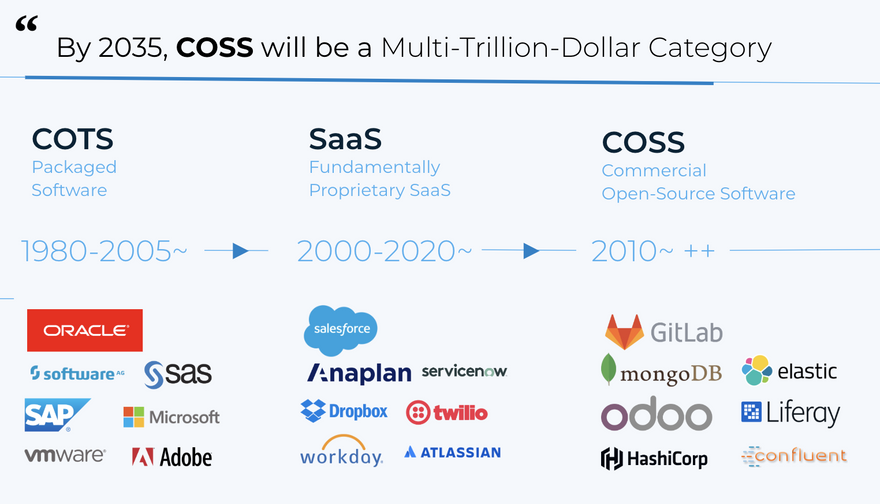 ---
COSS Weekly is brought to you via COSS Media, produced by OSS Capital (the first and only COSS-dedicated early-stage investor platform for COSS founders)
---
Don't forget to sign-up for the second-annual FREE Open Core Summit 2020 Digital to meet with and learn from the leaders in COSS (enterprises, founders, investors, executives and more) on December 16-18th, 2020:

1 mission. 3 days. 10 tracks. 150+ speakers. 10,000+ attendees.