COSS Weekly, Issue #8: December 6th, 2020
Welcome to the eighth issue of the COSS Weekly, the global Commercial Open-Source ecosystem newsletter brought to you every Sunday by Joseph Jacks and team at COSS Media, OSS Capital and the organizers of Open Core Summit.
Each week, we neatly summarize the latest happenings in COSS, often including objective commentary across primarily the following four areas: Funding, Content, Liquidity, Data.
---
💰 COSS Funding
November 2020 marked the first month in history when funding into COSS companies exceeded $600M. Link
Materialize, maker of a streaming database for live data and real-time applications, announces $32M Series B led by Kleiner Perkins. Link
BuildBuddy, provider of an open-source build system that helps developers compile + test code faster, announces $3.15M funding round including Y Combinator, Addition, Scribble, and Village Global. Link
Jitsu, developer of an open-source data integration platform, announces $2M seed led by Costanoa Ventures. Link
Orbit, an open-source experience platform for developer communities, announces $4M seed led by a16z's Martin Casado. Link
Sourcegraph, working to bring universal code search to every company, announces $50M Series C led by Sequoia. Link
Moov, an open-source FinTech platform, announces $27M Series A led by a16z (Angela Strange, Peter Levine, Seema Amble). Link
---
📚 COSS Content
Get ready for Anna Berenberg, Google Distinguished Engineer and leader of Google's core network infrastructure, as a keynote speaker at Open Core Summit. Link
Watch Dries Buytaert, founder of Drupal, on The Open Sauce video podcast. Link
Explore a list of FOSS technologies focused on creating "git for data" solutions, made by Joseph Jacks of OSS Capital and Justin Cormack of Docker. Link
Lessons for early-stage founders by Calvin French-Owen, co-founder of Segment. Link
Latest release of Wasmer now runs natively in Apple Silicon M1 chips. Link
Sebastien Pahl and Mat Appelman announce project Opstrace, an "Open Source Datadog." Link
How computing has evolved, and why you need a multi-cloud strategy by Urz Hölzle. Link
Watch + listen to Joseph Jacks on the Open Source for Business podcast. Link
COSS companies are business model agnostic (can be cloud-first or cloud-last), whereas SAAS companies are highly business model opinionated — they only have one business model. Link
OCS participants you don't want to miss: MongoDB, RedisLabs, HashiCorp, RedHat, Odoo, Liferay, Neo4j, Cloudera, JFrog, Starburst Data, and more. Link
Insight Partners announces interview with Managing Director Lonne Jaffe and OSS Capital's Joseph Jacks on Dec 16th @ OCS. Link
Ryan Booz spent one week benchmarking TimescaleDB vs Amazon Timestream. Results: 6000x faster inserts, 5-175x faster queries, 150-220x cheaper, all in favor of TimescaleDB. Link
Thread on the victories and losses of Docker. Link
Jono Bacon speaks with Mark Shuttleworth on life, business, and Ubuntu. Link
Moxie Marlinspike, creator of Signal, joins the Joe Rogan podcast on Episode #1572. Link
Shlomi Ben Haim explains why developers are the rainmakers. Link
Joseph Jacks: OSS is fundamentally changing capitalism from shareholder optimized to stakeholder optimized. Instead of charging money to create value, COSS companies charge money to capture value. Link
Matthew S. Wilson shares chart of open-source forks from RedHat. Link
FOSS's role in tech and society, from 2000 - 2050. Link
Running Ruby on RISC-V by Mark Perham. Link
Exciting updates coming from GetDBT at Coalesce. Link
Gavin Johnson, product marketer at RudderStack, to speak at OCS. Link
Supabase moving into Beta. 3000+ projects created during Alpha. Link
Jason Warner, CTO of GitHub, joins Coder.com as an advisor. Link
Kong named one of the 50 most promising startups by The Information. Link
---
💸 COSS Liquidity
GitLab valued at more than $6 billion in secondary share sale. Link
SUSE completes acquisition of Rancher Labs. Link
---
📈 COSS Data
---
As usual, we end with this graphic depicting what we think the next Multi-Trillion-Dollar category in business will be: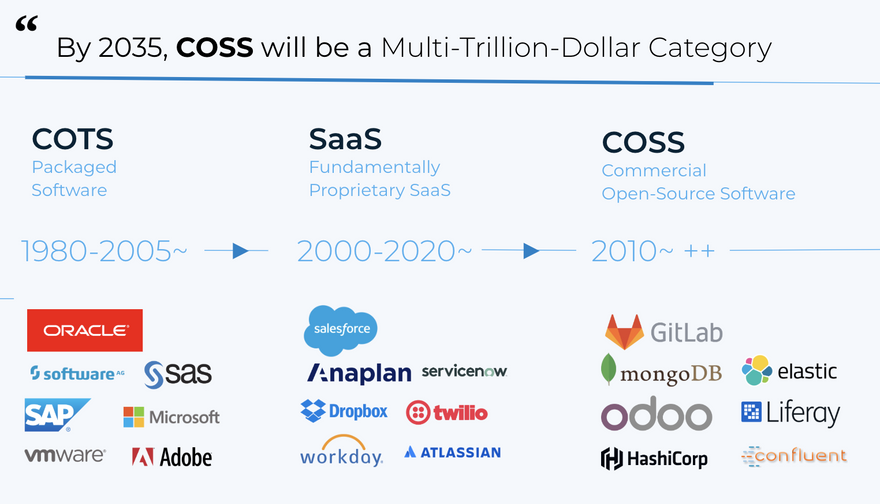 ---
COSS Weekly is brought to you via COSS Media, produced by OSS Capital (the first and only COSS-dedicated early-stage investor platform for COSS founders)
---
Don't forget to sign-up for the second-annual FREE Open Core Summit 2020 Digital to meet with and learn from the leaders in COSS (enterprises, founders, investors, executives and more) on December 16-18th, 2020:

1 mission. 3 days. 10 tracks. 150+ speakers. 10,000+ attendees.