COSS Weekly, Issue #19: March 7th, 2021
Welcome to the nineteenth issue of the COSS Weekly, the global Commercial Open-Source ecosystem newsletter brought to you every week by Joseph Jacks and the team at COSS.Community, OSS Capital and Open Core Summit.
Each week, we neatly summarize the latest happenings in COSS, often including objective commentary across primarily the following areas: Funding, Content, Liquidity, Data, Markets.
---
💰 COSS Funding
Airbyte, provider of an open-source data integration platform, announces $5.2M seed led by Accel. Link
Yugabyte, the high-performance distributed SQL database for global internet-scale apps, announces $48M Series C led by Lightspeed Venture Partners. Link
---
📚 COSS Content
Open Source resets the economics in each era of computing. Listen to more from Patrick McFadin (VP Developer Relations at DataStax) on the Open Source for Business podcast. Link
Stephanie Buscemi Goes Further Into The Cloud As Confluent's New Chief Marketing Officer by Marty Swant. Link
HTTPie has reached 50K stars on GitHub! Link
Secure the Bag. New post on the OSS Newsletter by Shawn Cherian. Link
This Software Giant [Elastic] Declared War On Amazon. Will Other Open Source Companies Follow? by David Jeans Link
Company Building Session #2: Building a Global Company from Day 0. Webinar series for dev/COSS-focused startups, hosted by Kevin Xu (founder of Interconnected, COSS.community, ex-GM at PingCAP). This session will focus on the building blocks of a global company, with expert panelist Clint Smith (Chief Legal Office @ Discord, ex-SVP of DataStax, ex-VP & General Counsel at MySQL). Register for the live webinar, airing on Thursday March 11th at 3PM PST. Link
Jeff Tang (Athens Research): Today so far. 12:05am Product Hunt Launch. 3am Sleep. 8:30am Hacker News Launch. 10:30am: @systes, CEO of GitLab, one of the most successful OSS companies ever, speaks at YC. I ask a question. He says, "Athens Research, haven't used it yet but I love the project." 11:30am lunch. Link
The Craft of Open Source podcast interviews Robin Gustafsson, CEO of k6.io, about how the closed source company developed into a much more successful open source company — and why. Link
The Problem With Open-Source Game Development by Kevin Anderton (featuring Maxim Wheatley of Merico.Build). Link
Here's the coming-soon $COSS ETF index as compared to the WisdomTree $WCLD ETF (every major public SaaS co), courtesy of Koyfin. The current public COSS list is only 8 stocks (Talend, Qt, Fastly, Rapid7, Elastic, MongoDB, Cloudera, JFrog). We expect this list to grow by 200%+ over the next 12-24 months.. Link
Scarf exits stealth with analytics tools that help open source developers get paid. Link
Mitchell Hashimoto (Founder of HashiCorp): Some perspective on the challenge of responding to job applicants and looking at resumes in a timely manner. HashiCorp had ~130,000 job applications last year and we hired ~350 people. Neither number is a typo. Link
Founded and Funded – Building Companies on Open Source with Joe Beda by Erika Shaffer. Link
Why we trademark Open Source software and you should too by Sam Tuke (Lightmeter). Link
This Week in Startups: Matt Mullenweg on pioneering remote work, investing in open-source, crypto & more. Link
Athens Research reaches 3000 GitHub stars! Link
JJ: Multi-vendor open core companies: RedHat, Acquia, Confluent, Databricks, Starburst. Single-vendor open core companies: MongoDB, Elastic, JFrog, Talend, Postman. BOTH models work well and share biz models. Importantly, "open core" is NOT the biz model. Link
Dave Neary: Season 2 of Open Source in Business coming soon! Confirmed speakers include Marten Mickos, Silona, Guy Martin, Heather Rocker, Dries Buytaert, Carol Alynn Payne, Larry Gritz, Danese, Isabel Drost-Fromm, Leslie Hawthorn, Astasia Myers, Stephen Walli, and Jeffrey Borek. Link
Ross Mason (Founder of Dig Ventures, BeApp, and MuleSoft): Finding talent is hard. At the Swisspreneur founders virtual dinner, the subject of hiring came up again. I have interviewed over 2,000 people at MuleSoft, and found that sourcing from your networks is still one of the best ways to find talent. See thread on how to do it at any scale. Link
Gab's CTO Introduced a Critical Vulnerability to the Site. Link
Qt is hiring a Community Manager. Link
Elastic + Grafana Labs partner on the official Grafana Elasticsearch plugin. Link
Sustain OSS Podcast: Avi Press and Scarf. Link
The real reason Okta spent $6.5B on Auth0 by Advait Ruia. Link
Dan Nguyen-Huu (Partner at DecibleVC): For open source & community driven startups, your slack/discord channel is your investor data room. If your vc doesn't know that, you might be talking to the wrong one. Link
Julia Schottenstein (Tech Investor at NEA): Congrats to Grafana, HuggingFace, Preset, Strapi, and Vercel for being in the top 20 monthly growth for stars, contributors, and issues! These 3 metrics show both project visibility and meaningful community engagement. Link
---
💸 COSS Liquidity
Three COSS companies on deck to IPO in 2021, according to The Information: HashiCorp, Databricks, Confluent. Link
Kaltura, the COSS video player platform, has filed to go public after passing $100M in subscription ARR. Link
Brave acquires Cliqz and the Tailcat open search engine, as part of upcoming Brave Search. Link
---
📊 COSS Markets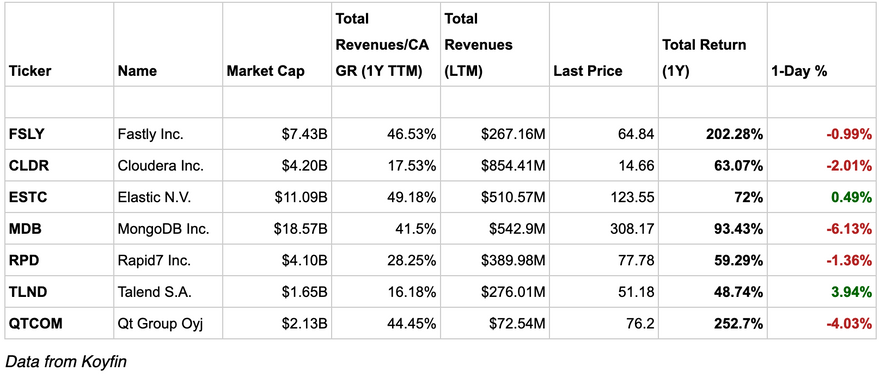 Performance analysis courtesy of Shawn Cherian and the OSS Newsletter:
To track the performance of COSS companies, we've created an equal-weighted index comprised of public names including: MongoDB, Elastic, Talend, Cloudera, Rapid7, Fastly and Jfrog.
Over the last year, the COSS Index significantly outperformed the benchmarks:
• COSS Index +107%
• NASDAQ +47%
• S&P 500 +23%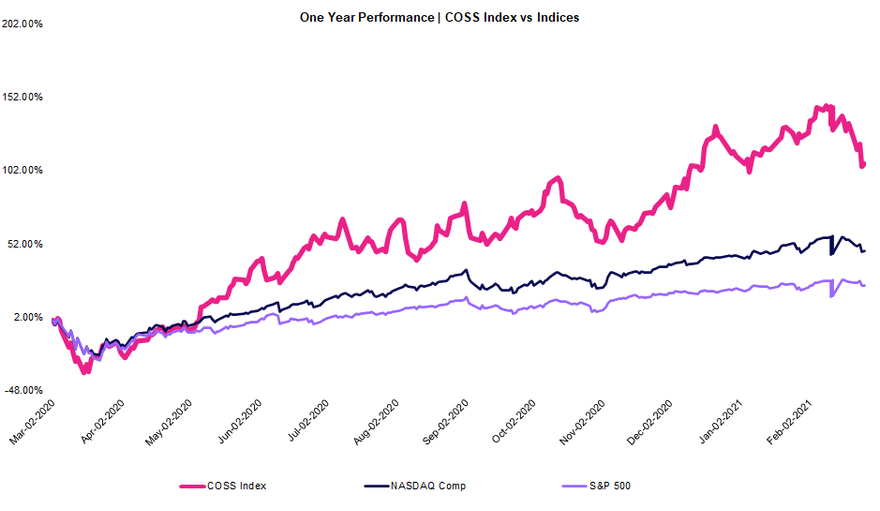 Over the last three years, the COSS Index continues to outperform:
• COSS Index +252%
• NASDAQ +81%
• S&P 500 +40%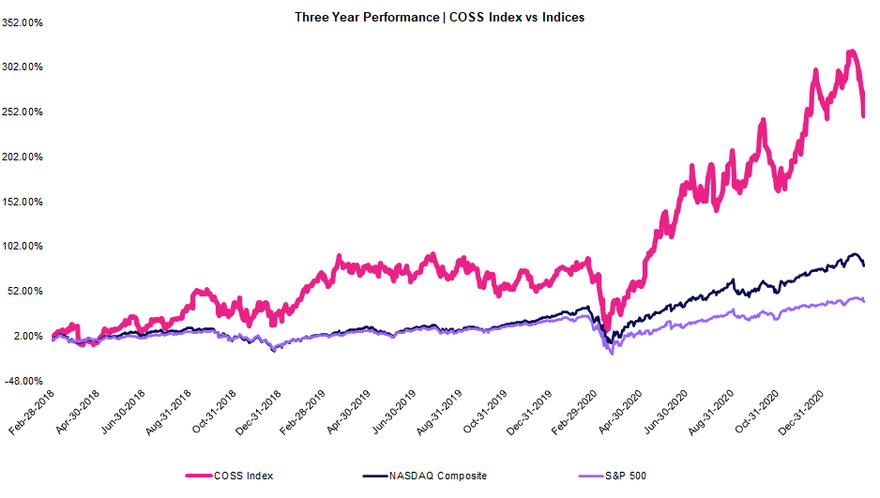 COSS companies sold off sharply in the last two weeks and while they stayed above their emerging cloud peers, the gap narrowed significantly from a premium of 7.3x multiple turns (two weeks ago) to 1.3x multiple turns today. Of note, all three indices still trade at nearly twice their five-year average reflecting continued strength across the public markets. COSS companies continue to move farther away from both their five-year average as well as their counterpart indexes.
• COSS Index: Current Multiple 15.5x | Five-Year Mean: 6.5x
• Emerging Cloud Index: Current Multiple 14.2x | Five-Year Mean: 8.5x
• NASDAQ Composite: Current Multiple 4.4x | Five-Year Mean: 2.9x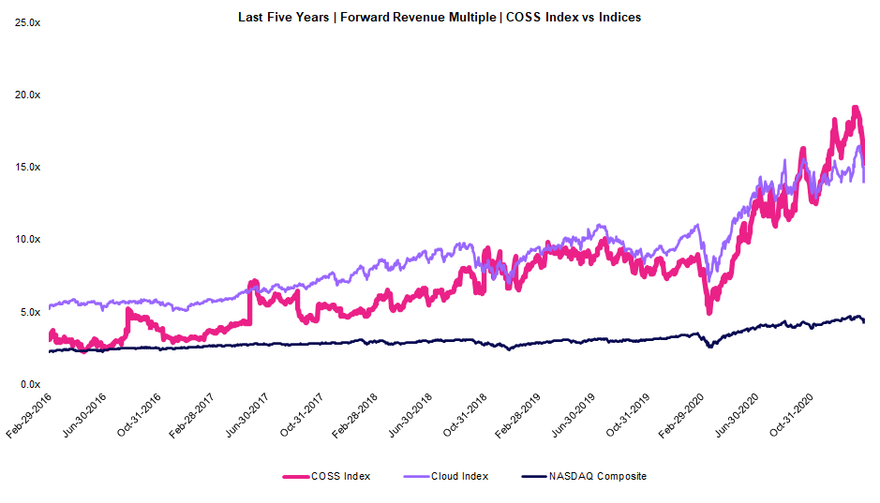 ---
📈 COSS Data
---
COSS Weekly is brought to you via COSS Community and OSS Capital (the first and only COSS-dedicated early-stage investor platform for COSS founders)