COSS Weekly, Issue #6: 💥November 22nd, 2020
Welcome to the sixth issue of the COSS Weekly, the global Commercial Open-Source ecosystem newsletter brought to you every Sunday by Joseph Jacks and team at COSS Media, OSS Capital and the organizers of Open Core Summit.
Each week, we neatly summarize the latest happenings in COSS, often including objective commentary across primarily the following four areas: Funding, Content, Liquidity, Data.
---
💰 COSS Funding
Gretel, a startup making it easier to anonymize data, raises $12M Series A led by Greylock. Link
Zilliz, a Chinese startup building AI-powered processing unstructured data, raises $43M Series B led by Hillhouse Capital. Link
Arrikto, enabling data scientists to build and deploy models faster, more efficiently, and securely, raises $10M Series A led by Unusual Ventures. Link
Shipa, building a cloud-native applicaiton management framework for full app development lifecycles, emerges from stealth with a $3.75M seed led by Engineering Capital and Jump Capital. Link
Opentrons, maker of open-source liquid handling robots for scientists, closes $20M Series B led by SOSV. Link
PingCAP, company behind TiDB, announces $270M Series D led by GGV Capital, Access Technology Ventures, Anatole Investment, Jeneration CApital, and 5Y Capital. Link
Build.security, makers of authorization policy management platform — resolving the complexity of building authorization into applications — emerges from stealth with $6M seed led by YL Ventures. Link
Seldon, providing tools to manager, serve, and optimize ML models at scale, announces £7.1M Series A led by AlbionVC and Cambridge Innovation Capital. Link
Grouparoo, makers of an open-source framework to keep customer data in-sync between data warehouse and 3rd party tools, raises $3M seed led by Eniac Ventures and Fuel Capital. Link
Observable, makers of a new platform for data visualization, announces $10.5M Series A led by Sequoia Capital and Acrew Capital. Link
---
📚 COSS Content
Tom Moor: One thing I've learnt as the maintainer of a popular open-source project — lots of VC firms are intently tracking action on GitHub. Link
Michael Berthold, Co-Founder of KNIME: How to Build a Successful Business Model Around Open Source Software. Link
Foxconn embraces open source for EV development, launching open platform for electric vehicles and pioneering R&D programs in Taiwan. Link
Atomico's Open-Source Risk Framework — 8 areas open-source startups need to keep in mind. Link
Tim Berner-Lee's startup, Inrupt, will enable users to choose how and where their data is stored. Link
How a big data project at Facebook became an open-source darling, and spawned $351M startup Starburst Data. Link
AiCure launches OpenDBM, an open-source version of company's computer vision and AI-powered digital biomarker platform. Link
So you're ready to commercialize open source – who should be your first hires? Link
Jeff Morris Jr. speaks with Dustin Schau, Head of Product at GastbyJS, about open-source communities, software cults, and making the web wierd again. Link
Martin Casado: Difficult for open-source companies to transition from on premises to cloud offering. Right approach is Reed Hasting's for disruption, with 1/3rd of company dedicated to transition. Link
Capital One announces Critical Stack, an open-source container orchestration platform, and intent to build with open-source community. Link
China has an open-source problem — it's part of the Internet you can't "splinter." Link
Stratechery: What if Trump had won? Also, catching up with MongoDB and an interview with company's CEO. Link
"We can do better than DuckDuckGo." Ideas on making search truly open and trusted. Link
Data grid startup Hazelcast shakes up leadership team and announces a "new wave." Link
Joseph Jacks: Both Ayden and Stripe — worth $50B each, and powering a large chunk of global fiat digital payments — cite open source as critical to their businesses. Future of money is open-source, and next-gen finance companies will be powered by open-source. Link
Kong ranked #69 fastest-growing company in North America on Deloitte's 2020 Technology Fast 500. Link
DataStax launches K8ssandra, a production-ready platform for running Apache Cassandra on Kubernetes. Link
OpenStreetMap is now treated as critical infrastructure for world's largest software companies, including Facebook, Apple, Amazon, and Microsoft. Link
Open Core Summit announces 39 sponsors, from Cisco to Sanity. Link
The Few, the Tired, the Open Source Coders. The open source movement depends on not enough people doing too much work. They need help. Link
OpenSourceInitiative (OSI) is hiring an Executive Director to build a stronger future for OSI and the open-source ecosystem. Link
First-year commonality among every high-growth + ubiquitous OSS technology: Designed and optimized for fast "time to value," minimizing churn and maximizing engagement + loyalty. Link
As society becomes more aware they can control tech instead of being controlled by it, the dominant platforms that maximize user trust will trend towards open source. Link
Facebook joins the Blender Development Fund. Link
Jono Bacon speaks with Ian Tien, CEO of Mattermost, on collaboration, open source, business, and more. Link
Apple vs. The Web: Why Apple should shift to web-based software distribution, instead of the App Store. Link
As more COSS companies go public, securities law and S-1 thinking will shift from OSS as liability/risk towards OSS as an asset/differentiator. Link
GitLab's IPO, originally planned for Nov 18th, will be one of the biggest and most exciting COSS liquidity events yet. Link
Matt Asay: Wondering how to preserve freedom in the cloud? It begins and ends with open source. Link
---
💸 COSS Liquidity
Cisco announces intent to acquire Banzai Cloud Zrt. Link
Ghost acquires IVEEL, one of the most popular theme + template platforms, and releases all IVEEL themes as free and open source under MIT License. Link
Swedish-based private equity firm EQT rumored to be planning $6B IPO with German Linux and enterprise software company SUSE. Link
---
📈 COSS Data
---
As usual, we end with this graphic depicting what we think the next Multi-Trillion-Dollar category in business will be: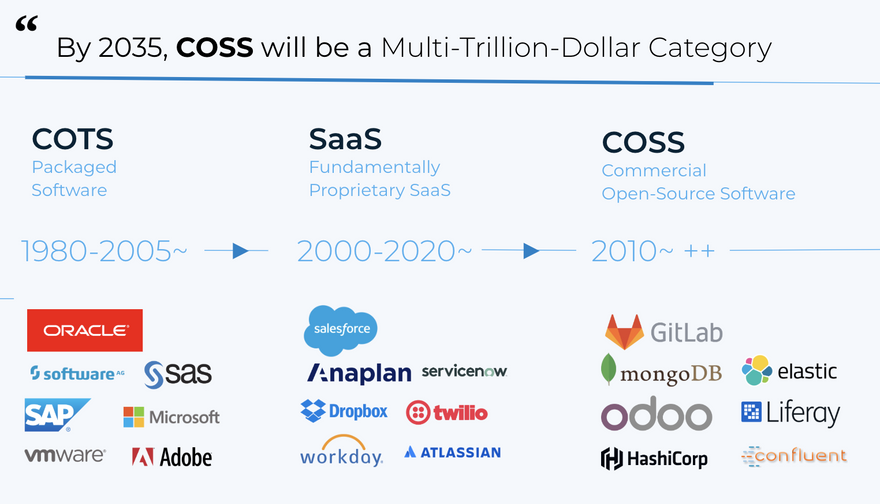 ---
COSS Weekly is brought to you via COSS Media, produced by OSS Capital (the first and only COSS-dedicated early-stage investor and platform for COSS founders.
---
Don't forget to sign-up for the second-annual FREE Open Core Summit 2020 Digital to meet with and learn from the leaders in COSS (enterprises, founders, investors, executives and more) on December 16-18th, 2020:

1 mission. 3 days. 10 tracks. 150+ speakers. 10,000+ attendees.